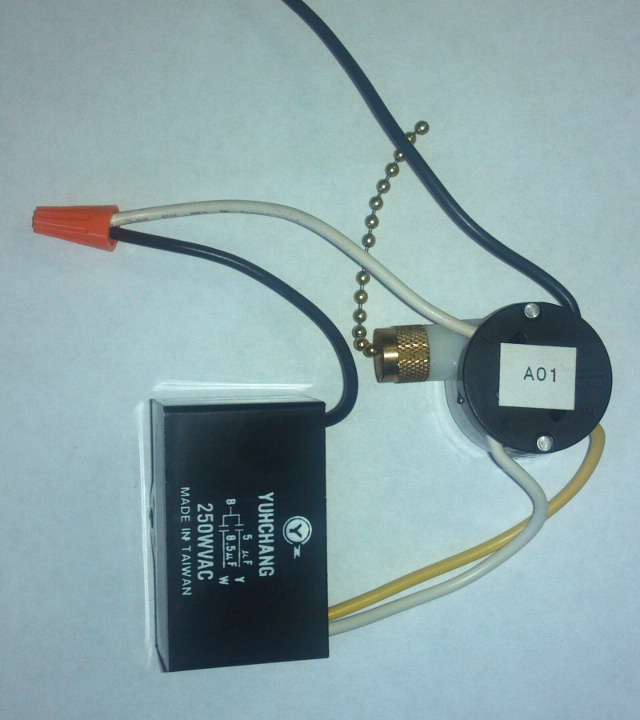 A01-585
An A01 Switch & A 585 (5+8.5µF) Capacitor
Use this conversion unit to replace a variable speed, transformer (choke), knob operated three or four speed control. The A01-585 is also appreciated

when installed in fans using only one two wire capacitor that has excessive motor hum

. When an A01-585 unit is installed in this type of fan, the original three wire capacitor will be used as a starting capacitor. This will eliminate most of the motor hum. This unit is also a direct replacement in many late model fans.
$22.90

HPM52
One 5 µF Capacitor, One Reverse switch, One S3002 Pull Chain Switch, and One Nine Pin Male Plug
Mounted on a PC Board as shown on the left. The letters H.P.M. 1 PC52 are on back. (for Home Pride replacement)
$24.95

AR-101
Has 3 Capacitors: 6+6+6 µF (No Light Wire)
Manufacturer Air Cool, Fan Model Regency
$24.95
AR-102
Has 3 Capacitors: 6+6+6 µF (With Light Wire)
No longer available


Use AR-101 and ask us to install light wire.

$24.95
AR-311
Has 3 Capacitors: 6+5+4.5 µF (With Light Wire)
Manufacturer Air Cool, Fan Model Regency
$24.95

FR-101
Has 3 Capacitors: 6+4+6 µF
Manufacturer Favor, Fan Model Regency
$24.95

S30RC
S3002 SW. Reverse SW. & Connector

Replace the pullchain switch with S3002 or A09.

Replace reverse switch with SPDT slide switch

(Requires Soldering.)


$16.95

KR-101
Has 3 Capacitors: 10+10+7 µF
Manufacturer Kontrust, Fan Model Regency
$24.95